October 09, 2019
New Orleans, Louisiana
Proceeds from the Annual Calibration Exchange combined with large contribution from the ISA New Orleans Section create a new scholarship fund
Late last month, a scholarship totaling $25,000 was created for the University of New Orleans Engineering Program, funded by proceeds from the Beamex Annual Calibration Exchange and the ISA New Orleans Section.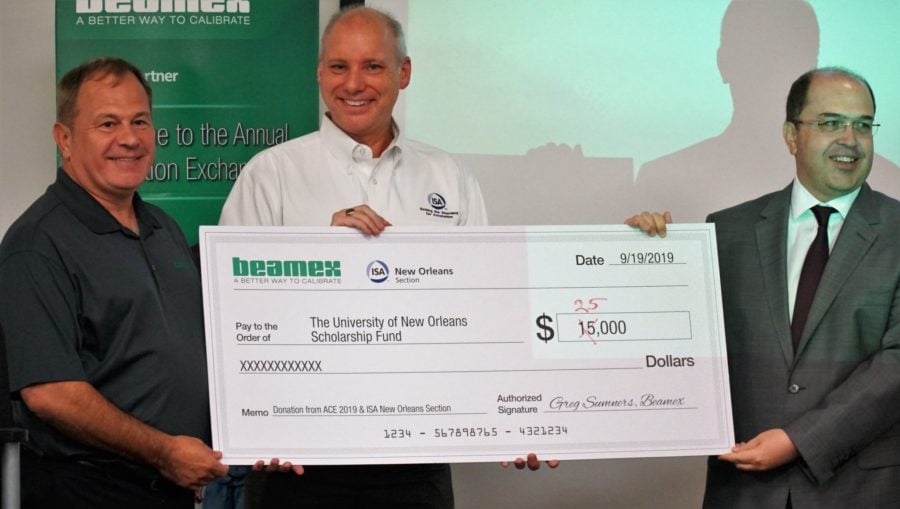 The original scholarship amount from Beamex and the ISA Foundation was estimated to be $15,000. During the check presentation, the ISA New Orleans Section announced it would add $10,000 to create a $25,000 endowment. This endowment will generate a perpetual scholarship with award to a deserving engineering student annually.
"This donation will do a lot of good for the students for a long time," explains Dean Bickerton, President of the ISA New Orleans Section.
Beamex is delighted to give back to future automation professionals and make a bigger impact through a partnership with the ISA New Orleans Section. The stories of the students who are selected as scholarship recipients in the coming years will be followed and shared.
"We are very grateful to have Beamex and ISA's support to establish an endowed scholarship within the University's College of Engineering," states Eric Balukonis, Major Gifts and Planned Giving Officer, University of New Orleans.
About Beamex
BEAMEX is a leading worldwide provider of calibration solutions that meet even the most demanding of requirements for process instrumentation. Beamex offers a comprehensive range of products and services - from portable calibrators to workstations, calibration accessories, calibration software, industry-specific solutions and professional services. Through Beamex's subsidiaries, branch offices and an extensive network of independent distributors, their products and services are available in more than 80 countries. Beamex has more than 12,000 customers worldwide.
For further information, please contact:
Beamex USA headquarters
Katie Turner - Marketing Manager
2152 Northwest Parkway, Suite A
Marietta, GA 30067
United States
Phone: 7770-951-1927
E-mail: katie.turner@beamex.com
About ISA
The International Society of Automation (www.isa.org) is a nonprofit professional association that sets the standard for those who apply engineering and technology to improve the management, safety, and cybersecurity of modern automation and control systems used across industry and critical infrastructure. Founded in 1945, ISA develops widely used global standards; certifies industry professionals; provides education and training; publishes books and technical articles; hosts conferences and exhibits; and provides networking and career development programs for its 36,000 members and 350,000 customers around the world.
ISA owns Automation.com, a leading online publisher of automation-related content, and is the founding sponsor of The Automation Federation (www.automationfederation.org), an association of non-profit organizations serving as "The Voice of Automation." Through a wholly owned subsidiary, ISA bridges the gap between standards and their implementation with the ISA Security Compliance Institute (www.isasecure.org) and the ISA Wireless Compliance Institute (www.isa100wci.org).
###